The traditional American home consists of a gas furnace & air conditioner. Replacing your existing system with a gas furnace & heat pump constitutes a major step up in efficiency and is our industry's version of a HYBRID system.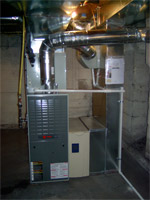 The hybrid option has grown in popularity recently given the ever increasing cost of natural gas. The heat pump itself is actually the outdoor unit. It both heats and cools your home. A hybrid system insulates the homeowner from any significant jump in the price of natural gas because in their home two sources of energy are available for heat - natural gas and electricity.
Again, hybrid systems have become popular in areas where gas prices are very high and temperatures are mild (30's and 40's). In central Ohio, our fall and spring are more often than not mild (perfect heat pump weather), therefore, there can be a definite energy savings. In a hybrid system (gas furnace & heat pump), your gas furnace will only kick on when the temperature outside dips below 35 degrees. Because heat pumps lose efficiency as the temperature drops outside, the utility savings in a home with a hybrid system, therefore, are optimized.
The cooling efficiency of a heat pump, like an air conditioner, is measured by its SEER rating. Because (unlike an air conditioner) a heat pump has a heating capacity, its heating efficiency is measured by the unit's HSPF. SEER - in the industry – for both heat pumps and air conditioners ranges from 13 to 21; HSPF from 7 to 9.5. At Hetter Heating & Cooling, we recommend, when purchasing a heat pump, to look at a unit with an HSPF of 8.5 or higher.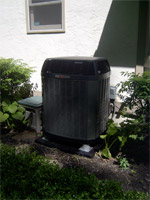 On January 23, 2006 the U.S. Department of Energy mandated that the minimum allowable cooling efficiency of an air conditioner or heat pump is to be 13. The industry minimum had been 10 since 1992.
On January 1, 2010 the U.S. Department of Energy mandated that all manufacturers could no longer produce R-22 based heat pumps and air conditioners. All outdoor units now must be R-410A refrigerant.
As part of the fiscal cliff deal that was passed in Congress earlier this year, an eligible taxpayer (homeowner) may claim up to a $500 federal tax credit for installed costs of a qualified energy efficient retrofit improvement to their HVAC system. A 95% efficient gas furnace ($150) with a variable speed blower ($50) and/or 15 SEER / 12.5 EER / 8.5 HSPF heat pump ($300) qualifies.
"The gas company did an actual usage read on my gas meter March 2. My bill for February was $38.00. I'm loving it."
Shelley
Clintonville
Installed Trane hybrid system October, 2008
Trane's product line is packed full of not only high efficient options to choose from but options that also offer superior reliability. Trane's patented Climatuff compressors are consistently rated some of the most durable on the market. Trane's patented Spine-Fin Coils come with the least amount of brazed in joints on the market which means to you – the homeowner – the least likely chance of a refrigerant leak which is the beginning of the end of a heat pump or air conditioner. For more information, go to trane.com.