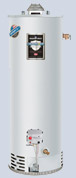 Hetter Heating & Cooling services all kinds of gas and electric hot water tanks. We pride ourselves on responding quickly to your call for service. Most often we can get out to your home the same day. Our factory trained service and installation techs are authorized to perform warranty work for State, AO Smith, Rheem, Ruud and of course Bradford White.
Hot water tanks generally fail when corrosion attacks the exposed steel in the tanks. No tanks are perfectly glass lined. There are imperfections in the lining of the tank and when these imperfections begin to corrode and weaken is when your tank will fail. Of course this usually happens at the most inappropriate time - a holiday or when you're away on vacation. Tanks life expectancy is in the neighborhood of ten to twelve years. Hetter Heating & Cooling stocks Bradford White, but also installs Rheem, Ruud and AO Smith hot water tanks.
As of April 16, 2015, the new higher energy efficiency ratings on virtually all residential gas, electric & oil water heaters took effect as mandated by the National Appliance Energy Conservation Act (NAECA). For consumers this means a significant increase in price. We are seeing – in some cases – up to a 40% increase. Also, the size of the new tanks – especially the diameter – may be larger. Due to the mandates, gas water heaters may require additional insulation & will be required to incorporate electronic ignition among other changes. In most cases, according the Bradford White's website, "the new products will differ only slightly in size and therefore will easily replace the majority of existing products." Homeowners whose hot water heaters currently fit in a tight space may be faced with an expensive problem with a new, larger tank. Bradford White just went through the largest plant expansion in company history to accommodate the production of NAECA compliant products, which includes the installation of the most advanced manufacturing equipment. For more information, go to www.bradfordwhite.com.
"I just wanted to take a moment to let you know how pleased I am with the work your company did for me last month on my water tank. When I awoke on October 26th I had a leak in my water tank. Upon calling your office we were able to set up an appointment for later that very day to look at my tank. As expected, the diagnosis was not good on my old tank. Your technician, Chuck, explained things to me and started work immediately. When I returned that evening from work the tank had been replaced and I had hot water. One phone call with fast, reliable service with no unexpected problems...what else can you ask for? Keep up the good work."
Jeff
Clintonville
Despite the fact that Hetter Heating & Cooling has been installing hot water tanks for over twenty five years, some suburban municipalities require a licensed plumber to install hot water tanks. We appreciate the support and cooperation we have received from those customers we have had to refer on.
Call (614) 784-9200 or email us today for more details.