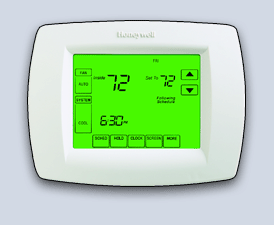 At Hetter, we offer our customers the very best thermostat options available. Nothing less.
Digital thermostats available on the market today are very user friendly. Just in the last couple of years, thermostat technology has evolved to now include not only communicating thermostats, but remote access and wireless. The following are your options:
Digital thermostats offer the greatest accuracy and reliability for temperature control in your home. The digital display is both easy to see and easy on the eye.
Programmable thermostats have become quite popular for busy families whose lifestyles have them constantly on the go. Given the ever rising cost of utilities, programmable thermostats make sense. The rule of thumb is, for every degree you lower your thermostat in the winter; you can save about 3% on your heating costs. Likewise, in the summer, for every degree you raise your thermostat; your savings can be as high as 4%.
Touch Screen thermostats have become very popular since being introduced onto the residential market by Honeywell in 2004. The biggest selling point associated with the new touch screen thermostats - other than its looks - is the ease of use. All features can be accessed simply by touching the screen. Among the features are: a display to remind you to change your filter, a HOLD button to override any programming and an option (on select Touch Screen thermostats) for humidity control & outdoor temperature display.
Communicating thermostats (come only with Trane's XL20i system) allow for your best control over your system. This thermostat communicates to both the indoor and outdoor unit thereby offering you the following: alert you of any issues within the system before they happen; continuously monitors system so it is operating at its optimal efficiency; allow you to control the blower speed of your system.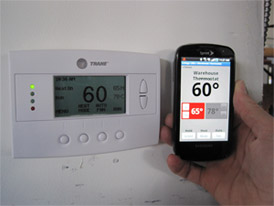 Remote Access thermostats allow you to access your home's thermostat while at work or on vacation through the internet or your internet enabled cell phone. Trane's Comfortlink line of thermostats allow you to adjust your home's temperature through the internet from anywhere in the world; you can receive text message alerts to change your filter; receive a text alert in the unlikely event the system does not maintain temperature; you can even add on additional controls such as remotely controlling door locks, lights and even camera access of your home.
Pictured is Trane's Comfortlink thermostat with an internet enabled cell phone that can remotely adjust your setting. The following link is a Consumer Reports video on this very thermostat that has the industry saying 'Wow!'. http://bcove.me/z8u4irgr
Also, if you are interested in moving your thermostat to a better location within your home, wireless thermostat options are now available. Honeywell's patented RedLINK engineering is what drives the world's first wireless technology for HVAC. RedLINK has been tested and proven to work through concrete, brick and other building materials with zero interference.
NOTE: Hetter offers a digital or programmable thermostat with most installs.