GAS FURNACES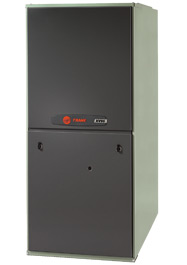 All manufacturers offer an 80% efficient gas furnace and a high efficient (90% plus). The payback to go to a high efficient furnace – over an 80% – is commonly up to ten years. Older homes that aren't as well insulated are a prime candidate for a high efficient gas furnace.
The U. S. Department of Energy is expected – at some point – to require homeowners in northern states (including Ohio) to only install high efficient gas furnaces. The original deadline – May, 2013 – came & went. Industry insiders tell us, however, this will happen but likely not until 2019.
In both efficiencies, most manufacturers offer a single stage furnace, a two stage furnace, a two stage furnace with a variable speed blower and a modulating gas furnace with variable speed and communicating technology.
Hetter Heating & Cooling installs both Trane & Tempstar products. Click on either logo below for that manufacturer's furnace product offerings:
All furnaces listed here have options when it comes to a thermostat. We invite you to check out our THERMOSTAT page to see what best suits you and your home. Trane's multi-featured Comfortlink Communicating thermostat gives you uncommon control over your system. Trane's Energy Command high definition thermostat also communicates and comes with a wireless bridge to enable remote access from your smart phone. Either thermostat is Nexia compatible allowing you to add cameras, light ports & locks to your home that can all be accessed from your smartphone.
HEAT PUMPS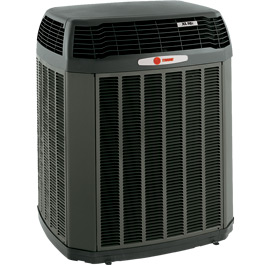 The cooling efficiency of a heat pump, like an air conditioner, is measured by its SEER. Because (unlike an air conditioner) a heat pump has a heating capacity, its heating efficiency is measured by the unit's HSPF. The minimum SEER rating for heat pumps was raised – by the U.S. Dept of Energy – in 2015 to 14; HSPF for heat pumps now range from 8.2 (minimum) to 10.5.
By installing a new high efficient heat pump, you may qualify for up to a $400 mail-in rebate from American Electric Power. Hetter will provide rebate applications for qualifying equipment.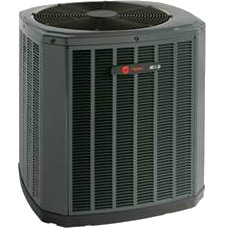 On January 1, 2010 the U.S. Department of Energy mandated that all manufacturers could no longer produce R-22 based heat pumps and air conditioners. All outdoor units now must be R-410A refrigerant.
The indoor unit in a heat pump or all electric system is referred to as the air handler. The air handler consists of a blower motor, evaporator coil and auxiliary heat package. A common misconception is that this unit is the home's primary source of heat when - in reality - it is only a back-up. All manufacturers offer air handlers with a standard blower motor and a variable speed blower.
Because of the high cost of electricity & because in central Ohio we heat 7 or 8 months out of the year, we at Hetter Heating & Cooling recommend, when purchasing a heat pump, focus on a unit with an HSPF of at least 9.0 or higher. For more information, go to www.trane.com.